DHRU Fusion, the World 1st Cellphone Unlock Server Platform. Powerful, User-Friendly, Secured. Fully API enhanced and Ajax featured.
Authorized Reseller (Worldwide)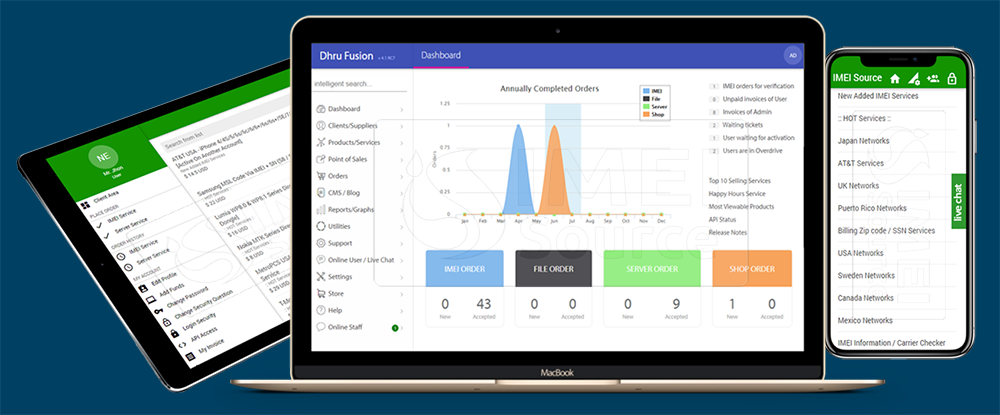 Click the Service URL for more information:
DHRU Script License
Also Follow @
DHRU™ Script / Addon / Template
Why Buy from IMEI Source?
We Provide Live Support (Worldwide)

We offer a single discount for for every DHRU products including Addons.
We provide guaranteed 99.9% up-time Hosting, that your DHRU server never go down.
We provide support via Team Viewer (Remotely) if further issue.
Hosting support available always. There is no hidden fee for hosting support.
There is no hidden fee for Team Viewer support.
Free installation of your DHRU Server (Default Setup).
Additional Support: We are fixing any kind of DHRU Database issues. Crashes, Loading Issue & other vital issues by our Special developer.

What is DHRU Fusion & Why?
The DHRU Fusion is a world 1st class Unlocking portal. Its fully automation server. The all in one solution specially for GSM industries The one place you can manage your orders,clients,billing and API automation with advance level.
DHRU Fusion is an all-in-one client & supplier management, Billing, Shopping cart, Blog, GSM code selling via IMEI, File process, Server logs and support solution for online businesses. It is an ultimate solution for Your Supplier's API Connection, so you are in control with a very powerful business automation tool. Easy to Use - Simple & Intuitive Interface, Fast Loading, Quick Setup & Efficient Support .
Downloadable Script
Total customization
Perpetual license
Secured in your own network
Easily edit live template
Available Features:

IMEI Service
File service
Service Log Service
Blog
Knowledgebase
Client Management CMS (Content management system)
Billing System
Mobile Admin
Mobile App
Support Ticket System
Affiliates System
Unique features (Client Groups)
Remote Client API
Suppliers API
Lots of Utilities
Installation Service
Mobile Applications
15+
Free Themes
& More...
Available Addons:
E-Commerce (Shopping Cart)
Mobile Edition
POS (Point of sale)
Suppliers Panel
Remove Branding
Live Help
Reseller Store
SMS
eBay Automation
Custom Mobile App
Click Here to Get Addons Details.
Contact with our DHRU specialist by
We Accept
PayPal, PayPal MassPay/Gift, Western Money Transfer, MoneyGram, Skrill, Neteller.
Bank Transfer (From Any Country), China Bank Payment (ABC Bank, ICBC Bank), bKash.
View Pricing Table

Cell Phone Unlock | Network Unlock | Boxes & Dongles Activation
iTunes Gift Card
|
Google Play Gift Card
|
Apple Music Membership
IMEI Services
|
File Services
|
Server Services
|
Register
|
Contact Us
We are Direct Source for many of unlock services, please
contact us
to discuss pricing matter.
Place Order Now
info@imeisource.com
| Sales Skype:
imeisource
IMEI Source Team.
If you have any questions about this service, kindly reply to this thread. We'll try to provide the best answer as possible.